Gamepad and friends strongly recommended
CHOP is a 2D arena fighting game with a hell of a lot of gore and fast-paced action. Swords will fly, bodies will be chopped, tons of blood will be shed and you'll probably end up hating your friends !

CHOP, it's a visceral gameplay where bloody killings meet ultra fast movements. Really accessible in its gameplay, it offers a real strategic dimension associated with a deep intense gameplay that will put your skills to the test !
One hit to kill, respawn almost instantly : CHOP is meant to give a feeling close to what you can experience in fast FPS, mixed with platformer setting and influences from games like Towerfall and Mortal Kombat.

Blood and guts in a torn apart world, with a comic book vibe : it speaks to those who like gore, comics, post-apo and are looking for a supercharged party game.
The game is playable up to four players. Challenge your friend one-on-one or enter the fray. You can even team up and play two-on-two, or one versus three if you have the guts for it.
Eager to get back to the golden age of local multiplayer games ? To crush your friends after practicing hard on a skill-based and competitive game ? Here you go.
The game offers a unique twist with this mode.
Here, no matter how many players you kill.
Your goal is to rush out through your portal as fast as possible. Don't worry, you still need to kill, as it's the only way to open the portal.
It closes if you die, so you'll be under a lot of pressure when it comes to escaping.
Don't mess around, just kill someone and rush out !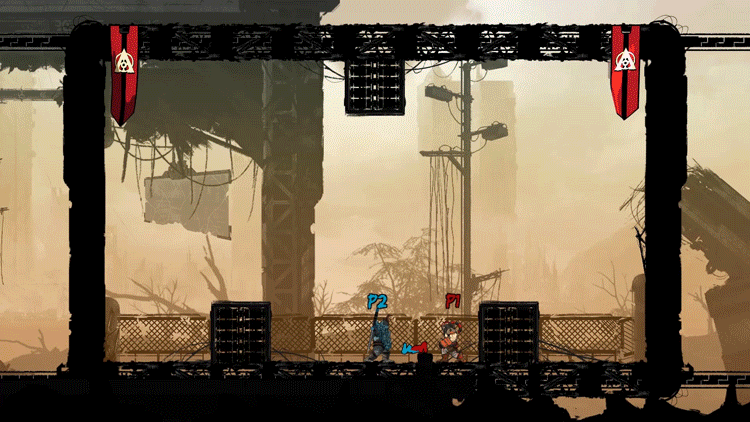 From 1 to 4 player local multiplayer
Glorious dismemberments, delightful executions, silly gory graphics all wrapped up in a comic
book style.
4 playable characters
4 special abilities
Same hitbox and basic skills = perfect balancing
Blistering moves
Various arenas (20+ on release)
Random bonuses to spice up battles
Many options to customize your games